How To Come Up With Blog Post Ideas for Your Print Website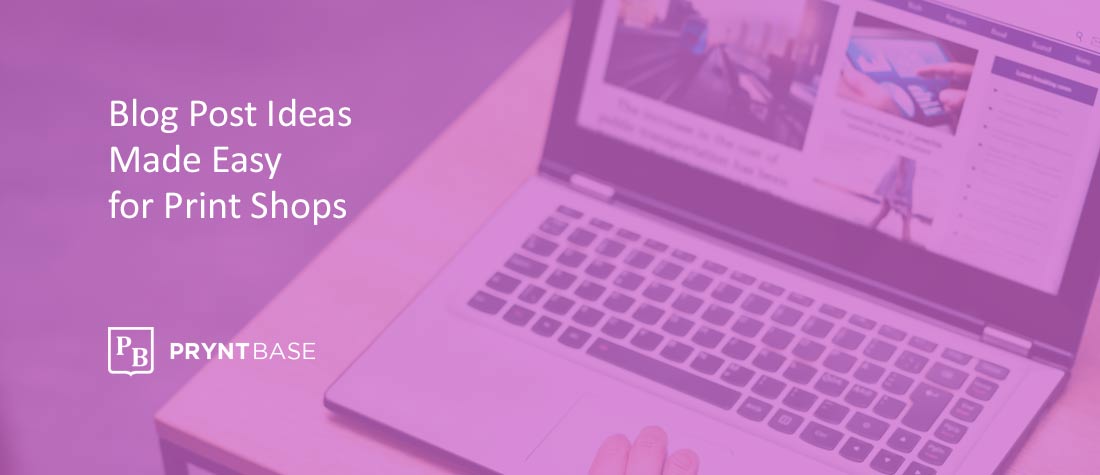 How To Come Up With Blog Post Ideas for Your Print Website & Write Them Fast!
If you're reading this, you probably already know you should start writing blog posts for your print company but for many print company owners and marketers it's either you don't have a lot of time to do that or you don't know where to start. A common mistake we see print companies make which costs them a lot of time and frustration is attempting to write a blog post without doing any research prior to determining what to actually write about.
Most people aren't creative writers unfortunately and simply sitting down at your computer thinking the words for a post will just come flowing out is likely to not be what happens.
So what can you do to make the writing easier and the research efficient?
Here we share some of the easiest ways to find good blog post topics that are both easy to write on and have high SEO potential.
Where to Find Blog Post Ideas for Printers
Let us start by saying if you are a creative genius or you already have 100 ideas for blog posts then all you really need to do is vet your ideas online by seeing if they have demand, meaning that prospects are searching for what it is you're writing about. But if you're like the majority of us (even if you are really smart) blog ideas aren't at the top of your priority list, so getting to good blog post ideas quickly is important.
We've put together a list of the best places to check out for blog post ideas.
Ask your sales team for questions customers are asking

Read the FAQ's of comparable print companies

Pull questions you can answer from articles in print publications like Piworld.com

Do keyword research (we'll go deeper on this shortly)
You'll notice a pattern with our first 3 bullets is that they are focused on answering questions. The reason for this is that it's the best way to get your blog posts found online and ranked in the search engines, plus they are useful to prospects because the posts are actually answering questions people are asking.
Good blog post topics are things like…
"How much do custom brochures cost?"
"Can I get a diagonal banner printed?"
"Are companies still using branded folders?"
Keyword Research
The reason that you should do keyword research is to determine if people are looking for a particular product or service and confirm what words they use when searching for them.
You can do this by using the Google Ads Keyword Planner or a free tool such as Neil Patels Ubersuggest.
Unfortunately we can't go into all of the steps to do keyword research here because it's a topic in and of itself, but we do have a keyword research course for people who sign up with us here at Pryntbase (which is free to join by the way).
But you can also do some Googling on Keyword Research to help you get started.
The last to all of this is to actually Google on your own the blog topic that you plan on writing on to see what other people have written on about that same topic. It will give you direction and ideas making the writing easier and if you combine ideas from multiple blog posts then you'll be better positioned to outrank those other articles that currently show up.
Other Print Focused Blog Post Ideas
We also know that you know a lot about print. So one of the best places to get ideas for print related blog posts are from your head. But again what should you write and how should you write it become the question.
Here is a list of blog post types that if you add in your expertise make the writing much easier.
Question & Answer Blogs
Literally what the name says. People have questions, you give them answers.
Case Studies
Sharing results your customers have achieved is the perfect post content to get more leads.
List Blogs or "Listicles"
Lists of "things" are one of the most popular blog post types because they share so many different ideas or considerations in one post.
"How-to" or Tutorial Blogs Posts
Sharing with your customers how to do something will keep them reading and coming back for more.
Interviews Posts
Interview your employees, partners, customers, etc. This will create engagement for your business online.
Trend or Prediction Blog Posts
Give your readers an outlook on things to come in the print industry. This will make you look very authoritative as well.
Design Tips
These are short lists of tips you can share that educate buyers on what to include for different printed pieces. Something like "5 design tips to creating an irresistible postcard" or "7 tricks to getting your direct mail read".
History / Evolution
This is great at educating buyers on what was done in the past and how it influenced the printed pieces of today. It will set you up as an authority, give you more opportunities to get found online and help build authority for other product & service pages on your website. Things like "The History of Hospital Brochures" or "How catalogs have changed  over the past 20 years".
Rebuttal / Expansion
In a post like this you can go out online and find a popular print related article and then write your opposing view on it. The content you are referencing comes directly from another post basically setting the agenda for your post. Or you can instead elaborate more on that post by expanding with additional information not shared by the original author.
This will again give you a great chance to show up in the search engines better and position you as an authority because it anchors you as related to another online authoritative author.
There are countless other ways to come up with blog post ideas for your print business, but if you follow the tips we shared here you're well on your way to getting tons of blog posts out, getting found more online, seeing more traffic to your website, generating more leads and closing more sales. For a comprehensive article on blogging for print companies you can Click Here.
We also have a repository of hundreds of blog posts with outlines to write against for members of Pryntbase. So if you want to make your work even easier you can sign up with us for Free today!
Are You Ready to get more Print Leads and Sales?