What Are the Most Searched Printing Industry Keywords?
When customers search for print companies online, there is a mix of general and product/service specific keywords.The more specific keywords may have lower search volume but higher commercial intent while the general keywords have higher search volume but lower commercial intent. 
Commercial intent refers to the process of determining the likelihood that someone searching for a keyword will become a customer. The higher the intent, the more likely they are to convert into a customer. 
This is important because the general terms are great for driving traffic to your website while the specific keywords are better for conversion rate. Knowing the top keywords for the industry, general and product specific, will help you make better decisions on the terms to include on your webpages as well as the keywords you want to bid on for paid search.
Top Searched Printing Industry Keywords
We hear from print companies all the time that they aren't sure where to start when it comes to SEO because there are so many paths that can be taken to optimize your print website and brand. One of the easiest first steps you can take is by taking some of the most searched keywords in the print industry and incorporating them into your strategy.
As a part of any digital marketing strategy, it's crucial to show up in search results for the more general printing industry keywords because that helps with your local search strategy and it's good for brand awareness. 
We've compiled a list of some of the top  general print industry keywords: 
It's critical to also rank for most, if not all, of products and services you offer. Here is a list of some of the top specific product or service keywords: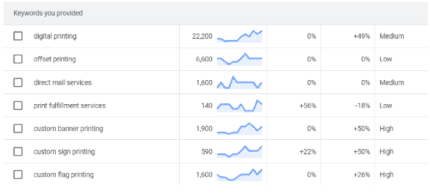 These keyword lists are not exhaustive and there are a number of different keyword variations for each term. 
What Can You Do With These Print Industry Keywords?
Now that you know some of the top terms your customers are searching for, you're probably asking yourself what you should do with these keywords. 
All of these keywords can be used in your PPC strategy. You can bid on the keywords so when someone searches for print companies near me or print fulfillment services, your ads promoting your company will show up. 
Depending on your print business and your website, you'll want to add these keywords to your webpages. If you have a service page for your direct mail services, include the direct mail terms to increase your chances of showing up for those searching for that service. 
These may seem like simple, easy tips, but we've found that print companies who incorporate industry terms are way more likely to see increases in website traffic, leads and sales.
Are You Ready to get more Print Leads and Sales?