Avoid These Top Mistakes Printers Make When Marketing Themselves Online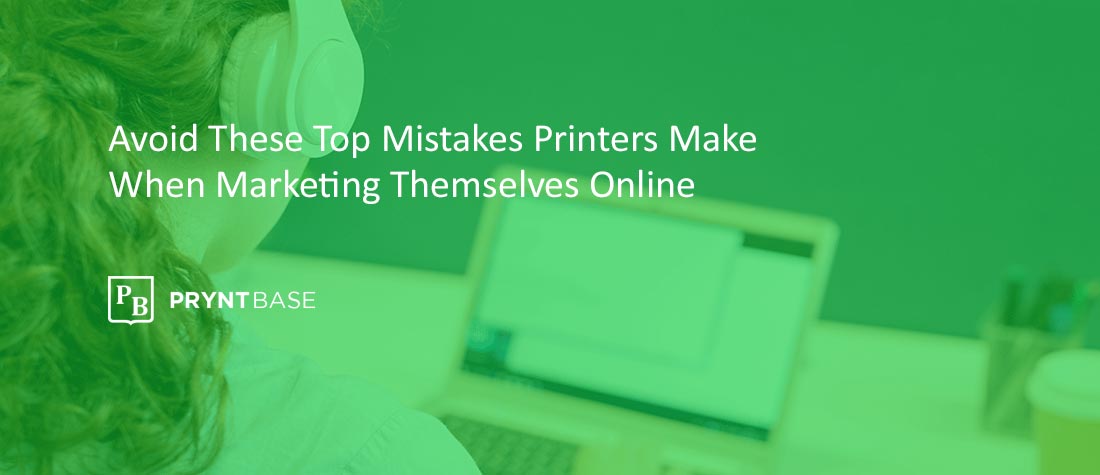 In all of our years in the print industry, we've seen, heard and learned a lot about the mistakes printers are making when it comes to digital marketing. We understand how hard it can be to find the time to put towards marketing while running a business so we've put together a list of the top mistakes printers make when marketing online with tips on how to fix some mistakes you may be making as well. 
Inconsistency
One of the biggest mistakes we see printers make is not being consistent with their marketing. Consistency is key in terms of posting on social media, sending emails out to current and potential customers or posting blogs. The more active you are, the more trust you're building with customers because they continue to see your content and know you take all aspects of your business seriously. 
Not Sharing enough First Party Content
We see tons of print companies posting blogs or on social media links to industry updates or only sharing what others are doing. That type of content works but it's important to share photos or examples of your work to build credibility for your own company and to also highlight your own capabilities to your customers.
Marketing Too Broadly
When marketing online whether in an ad campaign or in an email, it's easy to speak generally to all potential businesses but often, it doesn't feel personal enough and customers are less likely to click through or contact you. The key is speaking to a specific audience such as higher education or restaurants and also focusing on a single product or service for your chosen audience. 
Not only does a singular focus make the individuals on the other side feel like you're speaking just to them but it also can save money in your ad budget because it's not too broad. 
Lack of Automation & Follow Up
Automation is a powerful tool when it comes to following up with leads. Individuals are coming to your website and requesting a quote or contacting with questions, but no one reaches out to them with more information so the business is lost.
Take advantage of email automation in your marketing efforts to save time and not miss out on sales. Automation can be in the form of timed automated emails that get sent to someone that fills out a form on your website to encourage them to follow up or simply a single email letting them know your team will be in touch on a quote request. 
Whatever automation you chose to set up and implement, don't miss out on new business with the lack of follow up. 
Not Tracking
We've seen a countless number of print companies running digital ads or email marketing and have no idea if their efforts are truly working because they aren't tracking their online marketing efforts. When you set up proper tracking you can see what works and what doesn't to make improvements to maximize your time and money. 
What To Do About It
The opportunities to market online are endless but only when done right. If you aren't marketing online at all, the first step is to start. If you've done some work online but see yourself making one of these mistakes, take advantage of our marketing platform for print companies and gain access to ready to use content and courses teaching you how to market online.
Want to Learn More About How You Can Get More Leads & Sales Right Now?