Top Banner Keywords for SEO & PPC – Print Keyword Research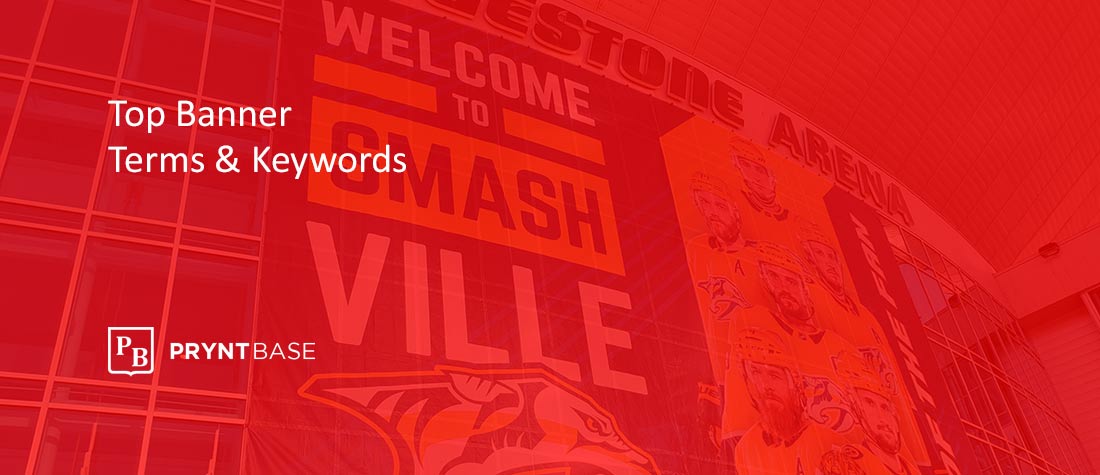 Top Banner Keywords for SEO & PPC – Print Keyword Research
If you're like most print companies you are looking for more ways to increase your visibility online and one of the most effective and efficient ways to do that is engage in the practice of SEO. But to do SEO well you need to understand where to start and one of the best places to start is with keyword research. Unfortunately good keyword research takes time and needs to be done in segments so you don't become massively overwhelmed trying to research everything all at once. Starting with a single product or service is an easy way to kick off your SEO efforts and begin keyword research in a way that will allow you to find what will work best for your print company.
In this article we are focusing on the best banner related keywords to use in optimizing your print website. More specifically optimizing the banner page or pages of your website.
Banner Keywords in General
The most important thing to note is that you can't just think of banners as one thing. To be honest you can, but you'd be missing out on other opportunities. Banners in general encompass a number of sub-banner products that you offer. Think about the material, the use case, etc. Customers are looking for banners generally and specifically. So we definitely recommend optimizing the more granular banner terms, but it will also help to optimize for the larger macro terms as well.
Here we pulled a screenshot of a number of banner terms that show up in the Google Ads Keyword explorer. Of course the term banners has the highest number of average monthly searches, but a number of other more relevant terms show up in this list as well. Notice the term custom banners and banner printing. Both of these terms are more likely to be searched by potential customers. The term "Banners" could be someone looking for "Banners Ads" (like in digital marketing) or banners for parties that are pre-made such as Happy Birthday, Congratulations or decorative flag banners. You just don't know what someone is looking for with such a broad spectrum of intent by the person searching.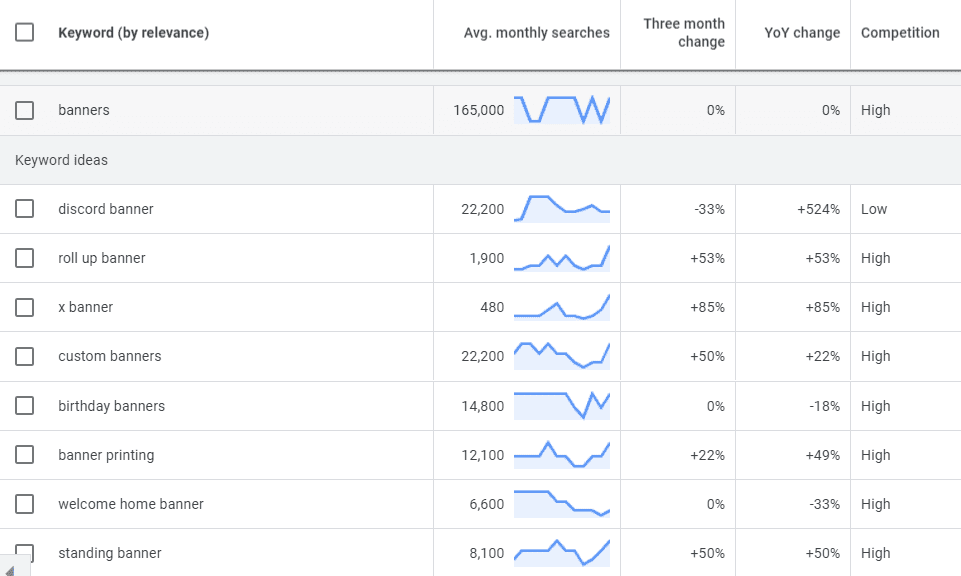 When changing up the term being searched to Banner Printing in the keyword planner you can see that Google is suggesting a number of new keywords that are more relevant for printers.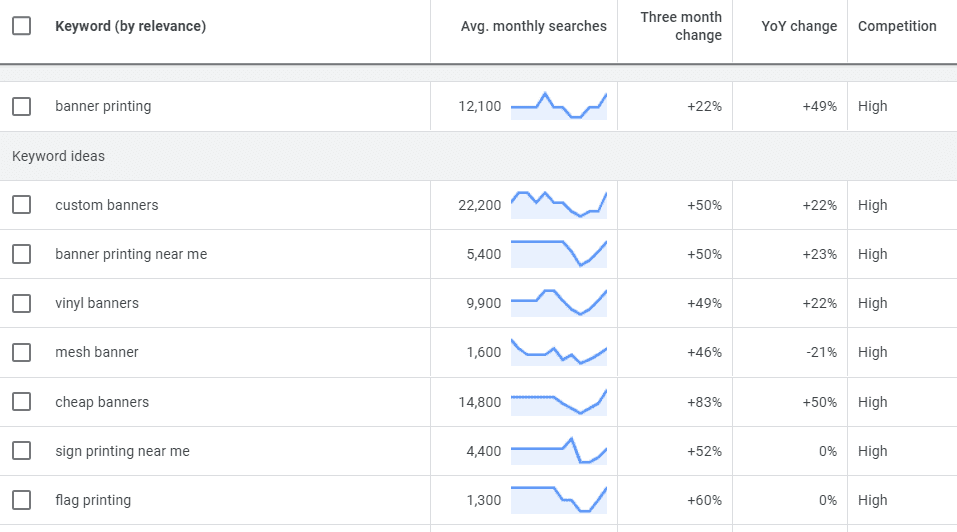 And lastly if we look at the search results page in Google when searching Banner Printing you can see that it is clear the term is a good one for broadly optimizing against more generic banner keywords. The screenshot below shows a maps listing with print companies near our office as well as organic search results of banner printing pages (Yes, we know, unfortunately it's showing Vistaprint, but you should optimize and beat them out!).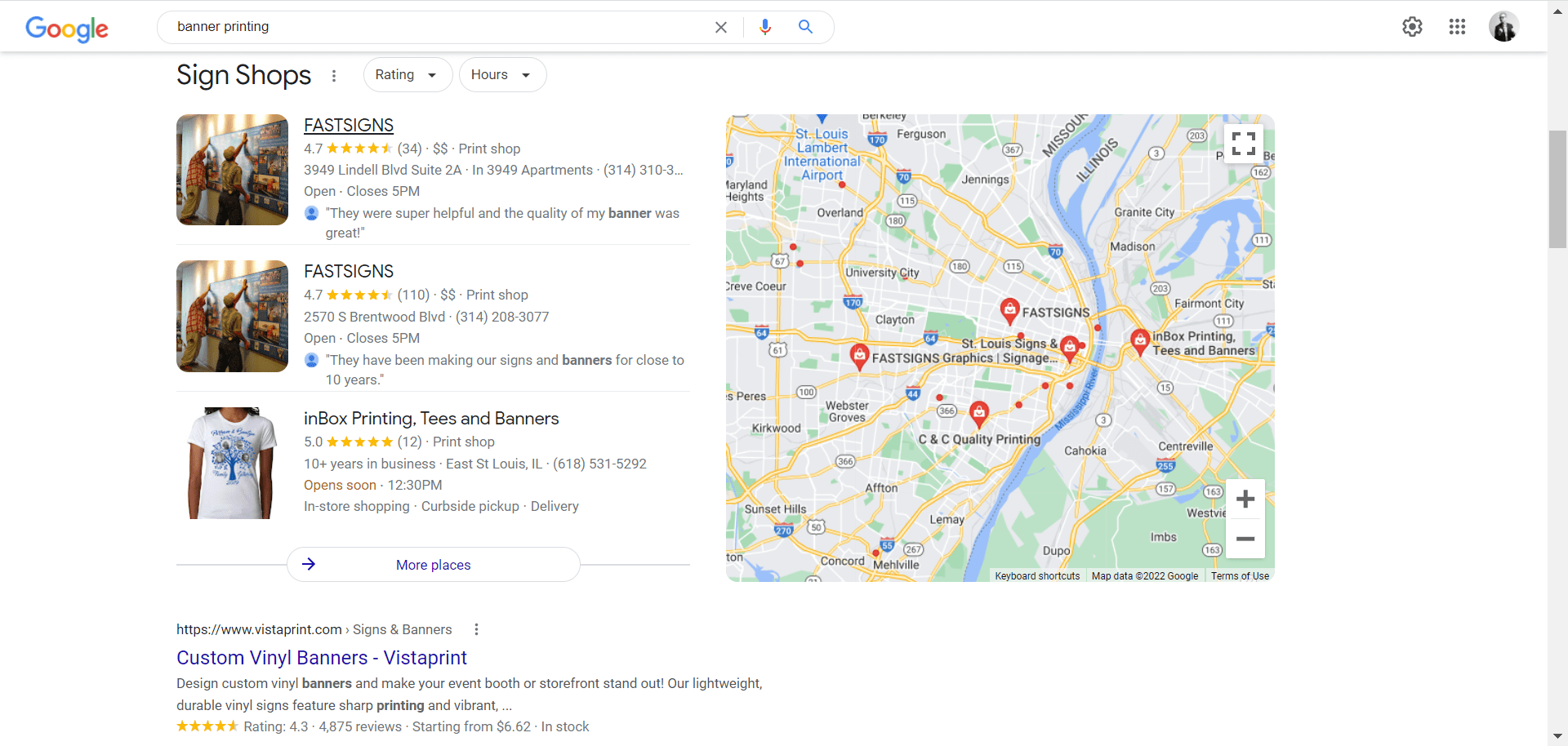 So without further ado we'll get into the top generic banner keywords / terms you could be optimizing for.
Custom Banners

Banner Printing

Custom Banner Printing
We only list 3 because they are the best and to add any more would dilute your ability to optimize for these terms.
Types of Banners & Their Keywords
There are a variety of types of banners so the question "What are the top banner keywords?" doesn't always make the most sense because of the fact that there are different types of banners. It's more beneficial to focus on the top keywords for each type of banner.
Below you can see a screenshot we pulled from the Google Ads Keyword Planner that highlights the average search volume for different banner keywords related to banner types and banner use cases.
We dug deep into the data and did keyword research on a number of different banner categories to come up with the best keywords to optimize for on each banner type.
Vinyl Banners
Customers who search for vinyl banners have a better understanding of what they want since they are including the material. Here are the top vinyl banner keywords.
Vinyl banners

Custom vinyl banners

Vinyl banner printing

Cheap vinyl banners
Mesh Banners
Customers who search for mesh banners also have a better understanding of what they want since they are including the material. This could also be a clue into the potential use case for the banner. Here are the top mesh banner keywords.
Mesh banners

Mesh banner printing

Mesh sign

Custom mesh banners
Barrier / Cafe Banners
Customers who search for barrier banners or cafe banners show a clear intent in their search. This allows you to speak to them very directly about their problem and the solution you can provide them. Here are the top barrier / cafe banner keywords.
Cafe banners

Custom cafe banners

Custom cafe barriers

Printed cafe barriers
Outdoor Banners
A customer searching for outdoor banners may not give you a clear understanding of the use case or material need, but it gives you the ability to showcase examples of banners at outdoor space and venues. Here are the top outdoor banner keywords.
Outdoor banners

Outdoor banner printing

Custom outdoor banners

Outdoor sign printing
Indoor Banners
A customer searching for indoor banners also may not give you a clear understanding of the use case or material need, but it does give you the ability to showcase examples of banners at indoor spaces. Here are the top indoor banner keywords.
Indoor banners

Indoor banner printing

Custom indoor banners

Indoor custom banners
Large Banners
This is an interesting group because "large banners" are more of a perspective thing. What size is large when it comes to banners? That question can be answered in a number of different ways that we won't get into here, but the truth is that customers will expect to see examples. So definitely have a gallery for these segments. Here are the top large banner keywords.
Large banners

Large banner printing

Big banners

Large sign printing

Large custom banners

Big banner printing
Specific Size Banners
This group of banner keywords is extremely specific and closest to the sale as it signals a customer who knows what they want and are likely pricing it out right now. The different sizes listed below are the most popular size banners being searched ranked in order of search volume.
8 x 4 banner

6 x 3 banner

2 x 4 banner

8 x 3 banner

4 x 2 banner

6 x 2 banner

10 x 4 banner

8 x 2 banner
We hope this list of banner terms and keywords is helpful in your efforts to optimize your website, get more traffic, leads and sales.
If you're looking for even deeper insights and more SEO research for print companies then sign up as a Pryntbase member for Free today!
Are You Ready to get more Print Leads and Sales?