Robotic Shelf Management, Robotic Inventory Management, Shelf Strip Printing & Label Scanning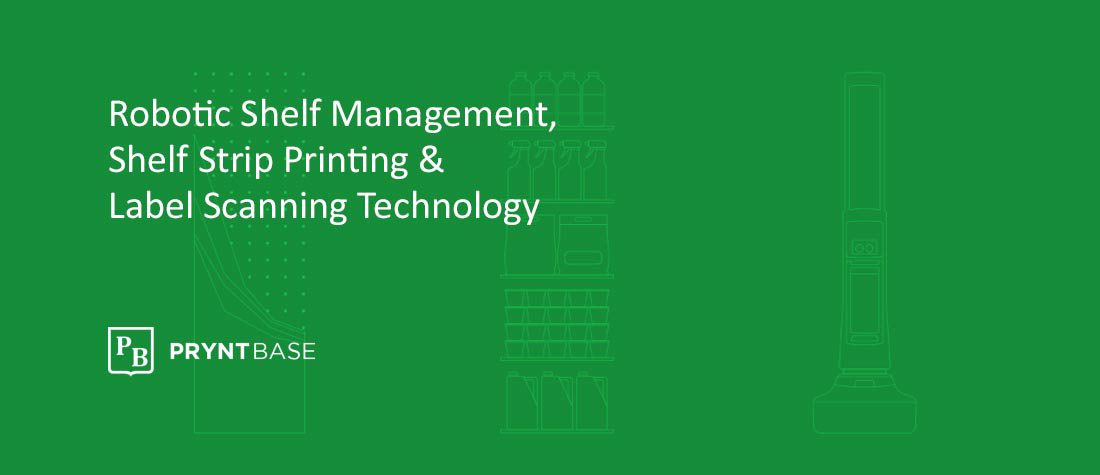 While we aren't print service providers ourselves, we do want to make sure we put out content on innovation within the print industry and one of those spaces is Robotic Shelf Management & Robotic Inventory Management within the retail and grocery verticals. So here we're covering the role of print as it relates to labels and shelf strips and their future tied to Robotic Shelf Management. The return to in-store retail is fueling the growth & innovation retailers need to stay competitive. New tools and platforms are leading the way for retailers to increase their level of efficiency across many aspects of their business while saving them time and money and creating an improved customer experience.
One of the major areas of innovation that continues to grow is the use of robotic shelf management. You might have seen autonomously scanning robots roaming around the aisles of stores of all sizes. However, you might not know that these inventory robots use scanning technology to assess inventory levels, examine shelf labels, and check the accuracy of pricing. 
In this article, we will discuss the importance of robotic shelf management as it relates to the printing of product packaging, labels and shelf strips. 
How Does Robotic Shelf Management Work?
When you research robotic shelf management, you will discover multiple articles that focus on retailers using robots to scan shelfs. The articles also discuss which robots they use and how awesome it is to use robots. However, there is some important information missing from many of these articles…How does shelf management by robots actually work?
Scanning Tech
The robots have scanners that read labels, packaging, and shelf strips while also communicating with inventory systems and labor systems.
Labels & Packaging
The labels and product packaging is scanned by robots to identify whether the product is actually on the shelf and determine how many products are actually on the shelf.
Shelf Strips
These strips are scanned to check price accuracy on the products and to also make sure the correct amount of products are located on the shelves. 
These robots are also able to prioritize reordering, manage labor needs, and elevate the customer buying experience related to the available inventory.
Labels & Packaging for Retail Scanning Robots
The scanning technology and optical reading abilities of autonomously scanning robots has advanced significantly. Their programming is able to identify what a product says as well as accurately identify products by seeing an image. 
One of the most important aspects of robotic shelf management is scanning products to ensure the right products are on the shelf and determining how much of the product is located on the shelf. This is accomplished by scanning the shelf labels or product packaging to determine the number of products on the shelf and if the package or label matches what is printed on the shelf strip. Robotic shelf management can cross reference the product location accuracy on a specific shelf or aisle.
For example, a scanning robot can match the image of a cereal box to a box located on the shelf. The robot can also count the current number of boxes and check the information on the shelf strip to ensure the product is in the correct location, count how many products are on the shelf and relay that information to an inventory system so store workers can be informed on which products need to be ordered again.
Shelf Strips and Retail Scanning Robots
Much like their inventory tasks with labels and packaging, shelf scanning robots use shelf strips data to locate a product, match it to the product that is supposed to be on that shelf, and use the combined data to make decisions on labor needs, ordering quantities, and any store layout updates.  Most retailers have a plan for their displays which can be optimized and improved through the collection of buying patterns data. Robotic shelf management gives retailers real-time data that allows for quick and accurate decisions.
In addition, making sure shelves are efficiently stocked creates a more positive customer experience. Consumers will not experience empty shelves or products in an incorrect location, and they will enjoy accurate pricing of the products.
The Importance of Print Within Robotic Shelf Management & Robotic Inventory Management
Keep in mind that the main element that makes all of this work correctly is the accuracy of the printed labels, shelf strips, and packaging. If these are not able to be read clearly, the scanning technology won't work correctly due to receiving "bad data". Plus, there might be a need for multiple codes and symbols printed on shelves to better assist shelf scanning robots (which reinforces the importance of accurate printing for robotic shelf management services). There are so many benefits that print provides throughout this system such as price accuracy, inventory management, planogram compliance, promo accuracy and more that the future is very bright for print companies like you in this space.
Are You Ready to get more Print Leads and Sales?