Print Sales Strategy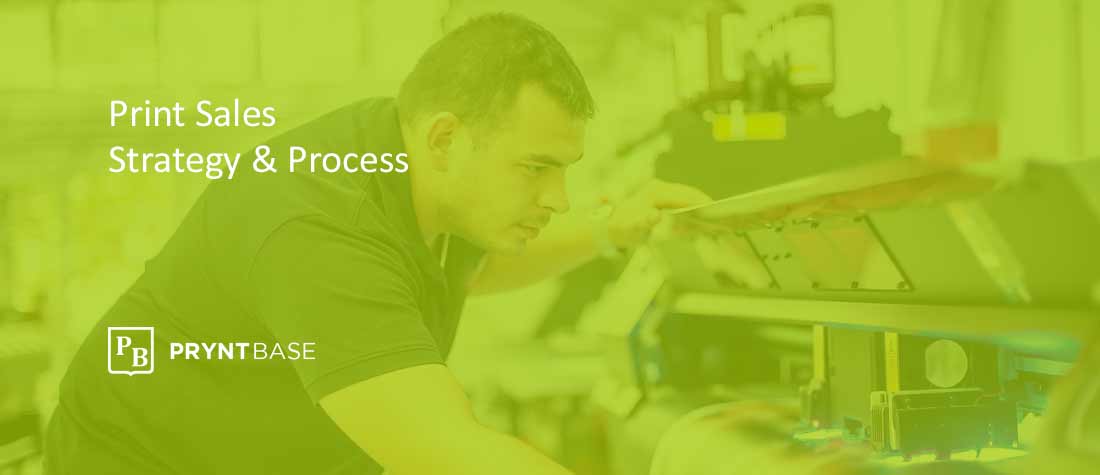 Over the years it's felt like every print company that we talk to doesn't have a sales strategy for their print business. Don't get us wrong, they say they do, and "kind of" do, but if we're being totally honest with each other there really isn't one. And that is unfortunate!
In this article we're going to share with you what we see from most print businesses as being their sales strategy, talk about where that falls short and then give you a print sales strategy that is guaranteed to close more print business & revenue than you've seen in the past decade. Literally, we're not exaggerating her.
Average Companies "Print Sales Strategy"
In the introduction we talked about how many print businesses say they have a sales strategy, but that we respectfully disagree. Here we'll break down why we say it's not a "real" print sales strategy and what you can do about it.
Around half the time we hear from print companies that they don't have an actual sales strategy. They will say, "Our sales people just follow up with quotes, inquiries and work their existing book of business.". Which in that case there literally is no sales strategy.
The other half of the time there is a mix of different perspectives on the print company's sales strategy. In about 5% of cases they actually have a good process, so we will ignore that 5% for now. The rest of the companies break down into the scenarios we outline here…
Sales Strategy Group A
"We have a sales process, but it's loose or not well adhered to"
This may sound familiar, you have a salesperson, team or even if it's just you and the process has a number of components such as the technology (you have a CRM or database), outbound sales, inbound sales, conversation with the customer to learn more, get their details, generate a quote / estimate, follow up with the customer and either move forward with the order or not.
This is a typical sales scenario and while it has steps, it's not really a strategy, but we applaud anyone who does have some type of process or system that can be trained.
Sales Strategy Group B
"We have a process and a strategy, need a little help tightening it up (but they really don't have any process or strategy)"
Many times these are hard conversations because the print company owner, sales manager or marketing manager believes they have a process and strategy but they actually do not. In some cases they will say they do and never articulate anything about it (because there isn't one) and in the other cases the typical response for what the strategy is are things like… "Our people just use outlook to manage all of their contacts, email them to check in and see if they need any work, take inbound calls and get jobs quoted for customers".
It's nearly 100% that every salesperson is doing something different, they don't follow up consistently, etc., etc.
Not having a formal sales process and strategy is doing your company, the sales staff, and the customer a disservice. 
Let's talk about what that sales strategy for your print business could and should look like.
Elements of a Sales Strategy for Print Businesses
Alright, enough with trash talk about print companies not having a solid sales strategy. Let's get down to what it should be! Here we are going to talk about an actual strategy and the components of that strategy. Not to be confused with sales tactics which are a part of the sales strategy.
Listed below are the actual parts of a print sales strategy that you should have in place.
Marketing & Lead Generation

Sales Technology

Sales Assets

Sales Process
1. Marketing & Lead Generation for Print Companies
While some love to separate sales and marketing, we like to think of them as working together and include it in our sales strategy. The marketing alone can have it's own strategy and that will provide the sales team with a good place to start.
Target Audience
Knowing what industries, companies, and job titles to go after will allow the sales team to get in front of the right buyers.
Marketing Channels
Publishing content, running ads and doing work such as SEO will get you more visibility, traffic, phone calls, leads and sales. Places like social media, Google Ads, etc. are all good to generate awareness and engagement.
2. Sales Technology for Print Businesses
This is a big one because having a good "Tech Stack" can power up your sales team.
Typically we recommend having a CRM (customer relationship management) system, Job System, Quote or Estimating system and a phone system that is tied into these other platforms.
By having all of this technology you can track everything, easily integrate sales into the workflow and identify opportunities for improvement.
3. Sales Assets for Print Service Providers
Think of this as print collateral for sales teams. While we are all familiar with print sales sheets and presentation folders, we sometimes forget that you can have the digital equivalent of these as well. Case studies, whitepapers, webinars, blog posts of your own and articles by others can all be used as assets for your sales team to close more projects.
Essentially this is ammunition for anyone in sales to share so that it can generate trust, provide creative ideation and prove that you can get the work done and done well.
4. Print Company Sales Process 
And lastly you need to have a documented sales process. This can be simple, moderate or complex. Depending on the type of company you are, that will be up to you. But what isn't up for negotiation is whether or not you should have one. You need a print sales strategy!
Below we have outlined an example strategy your print business could use
Initial contact

Inbound lead from a form

Inbound lead from the phone

Outbound connection via email

Outbound connection via phone

Outbound connection via in-person meeting

Capture information about the contact, the company, the project (get it into the CRM)

Determine fit

Identify a quote opportunity

If no, follow up in a week to 2 weeks

If yes, move on to the next step

Get the quote details

Send quote details to the estimating team (or estimate yourself)

Share project quote & timeline with customer

If they change it, go back to step e.

If they say no, follow up with them in a week to 2 weeks for future needs

If they say yes, move on to the next step

Send project details to the print team

Share productions & shipping status with the customer

Follow up with the customer a week post order shipment to ensure they received it and have no issues

Follow up with the customer 1 to 2 weeks after the previous step to check in on any other projects they need
What we've shared is fairly basic, but having something like it and tailoring it to your company is critical to scaling and making your sales efforts more efficient & effective.
Sales CRMs for Print Service Providers
We mentioned the Sales CRM in the sales technology section but wanted to highlight it here because it is so important. You will find that many existing sales people do not like using them, especially if you never have, but the new sales people typically welcome the use of a good CRM.
Efficiently implementing the use of a CRM will be a game changer for your print business.
And to go into more detail on these we wrote a separate article that you can read here CRMs for Print Companies https://pryntbase.com/crm-platforms-for-print-companies/
Sales Tactics for Print Companies
We mentioned earlier in the article that a print sales strategy is different from print sales tactics.
So we wanted to make a quick list of some sales tactics that you can use which span across sales and marketing.
Networking at formal events and community events

Running LinkedIn Ads

Writing blog articles and publishing them on your website

Doing consistent monthly email marketing

Implementing SEO on your website

Running Google Ads

Ask customers for referrals

Run Direct Mail Campaigns

Upsell Existing Customers

Create a Value Add Product / Service Offering

Run a Contest
Regardless of the direction you take, it's a fact that if you have a sales plan and sales strategy for your print company you will 100% generate more sales and revenue. So what are you waiting for? Get to it!
Are You Ready to get more Print Leads and Sales?