How to Integrate Your Website into the Print Workflow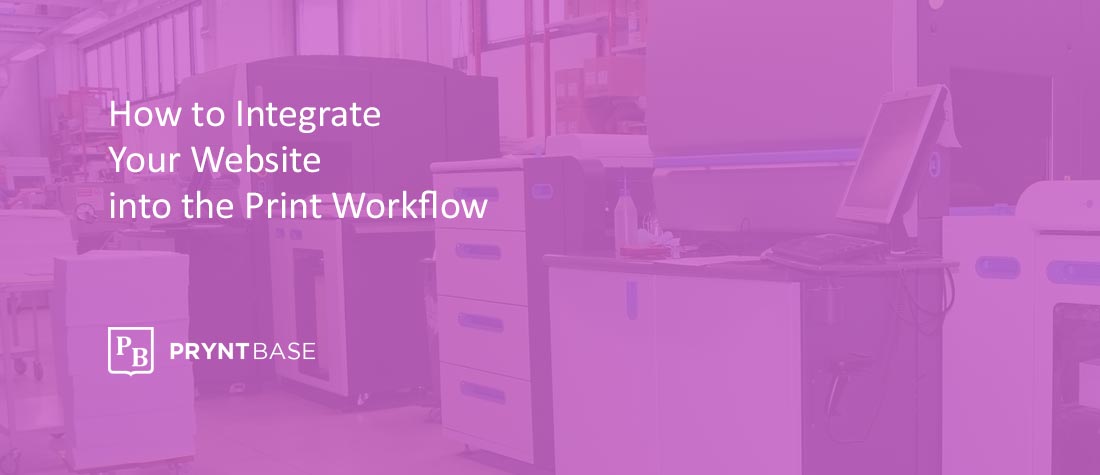 How to Integrate Your Website into the Print Workflow
Whether it's a print workflow automation solution that integrates your web to print store into the full print workflow or something as simple as collecting job information from a prospect online you have a number of options to integrate your website into the print workflow.
The solutions we'll talk about go from the easiest to the most complex.
So some of these you'll be able to implement immediately while others will take time, thought and planning to fully integrate.
But the good news is that you will 100% be able to integrate your print workflow and website.
Quote Information on Print Job Details from Leads on Your Website
Many print service providers may not consider this to be a print workflow integration but technically it is by definition. Most print companies consider print workflow integration an automatic process that requires little human intervention, but the truth is that not many print companies will get to this leve. So this website to print workflow integration is one that you'll be able to implement now, but will still require manual work.
Utilizing a quote form on your website is the easiest way to integrate your website into the print workflow. Many of you may be thinking, "I already have a form on my site.", and you probably do, but many print websites don't have it connected in a way that drives efficiency across the sales process.
Below are a number of ways a quote form can be integrated into the print workflow
Quote form that directs to an individual email address

Quote form that directs to a sales distribution email address

Quote form that connects to a CRM

Quote form that routes to a specific email address based on the from selection
There are a number of other ways as well, but these are your most common integrations.
Art files can be attached as uploads to these form submissions as well making them completely functional. Once submitted you're able to take the information, complete a quote and move the job into production.
Web to Print Workflow Integration & Automation
The most complex website to print workflow integration is one that is a true web-to-print solution that requires no human intervention unless you design it to have that. These solutions are the ones you see used on websites such as Vistaprint and Bannerbuzz.com for example. And while we know you hate hearing those names, the fact is that they are doing this type of print workflow integration and automation the best.
These solutions are more of a customer ecommerce experience for end users that takes them through every step of the print selection process to accurately give them a quote on their project and once submitted the job being quoted is sent directly into the queue so it can be printed.
Some print companies design in a proofing step that requires a human to say yes or no to a final design that forces the customer to take one last look at their job in case changes need to be made.
An automated print workflow integration like this requires you to have a sophisticated link to your software and equipment, as well as accurate numbers on material to price the project and accept payment for the job.
Alternatively you can use 3rd party solutions such as Promoplace.com or Presswise.com but you have no control over these sites and there is nothing unique about this for your customers which further commoditizes your offering.
Customer & Prospect Portals for Print Quotes Integrated Into the Workflow
Lastly you can create customer ordering experiences for your existing customers.
This can also live on your website but is meant to service those who already have a relationship with you. The good thing about this audience is that you aren't trying to "sell" them like youare with new customers. These buyers just need to get the job details in, get their price and get production going.
There are a number of solutions out there specific to print and we advise that you use one of them, but you can also create this completely custom on your own using WordPress plugins such as Woocommerce and only make it available to current customers.
Regardless of how you decide to integrate your website into the print workflow, just know that doing it will help your print company be more efficient and close more sales.
Are You Ready to get more Print Leads and Sales?