How To Connect Google Search Console to Google Analytics 4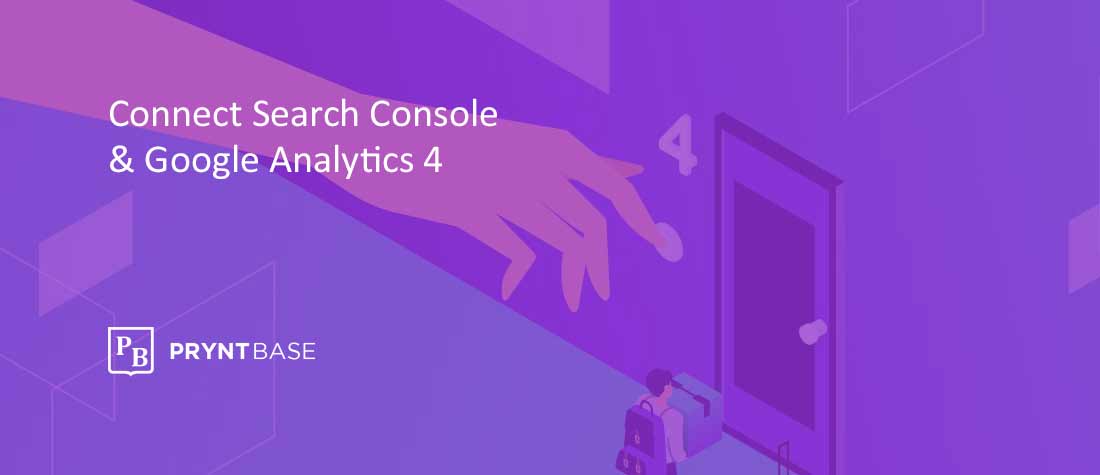 Google Analytics 4 is about to be fully rolled out replacing Universal Analytics and with that, comes some learning curves when it comes to setting up your GA4 property. One thing you'll want to make sure you do is connect GA4 to Google Search Console so search data can be available in your Google Analytics property. 
To help you get this set up, we're walking through how to connect Search Console to GA4 here in this article. 
What Search Console Data Will Be Imported into GA4?
Before making the connection between the two platforms, it's important to understand what data from Google Search Console will actually be imported and viewable inside of Google Analytics 4. 
The below data will be passed through to your GA4 property: 
Search Queries

Landing Pages

Clicks

Impressions

Click Through Rate

Average Position

Users

Engaged Sessions

Engagement Rate
Connecting Google Search Console with GA4?
There are two ways to connect Search Console with GA4. Either from Google Analytics OR from Search Console. In this article, we're going to show how to set it up from GA4. 
A couple of things to note before moving forward on the connection: 
You'll need to be an Editor or an Admin of the GA4 property to complete this set up so be sure you have those user permissions

Make sure the email address you're using to access GA4 is the same email you are a verified site owner under for the Search Console property

Be sure your GA4 property has at least one web data stream 
From within your GA4 property, click on the Admin/Settings (gear icon) in the bottom left corner. Then under Property settings, click on Search Console Links.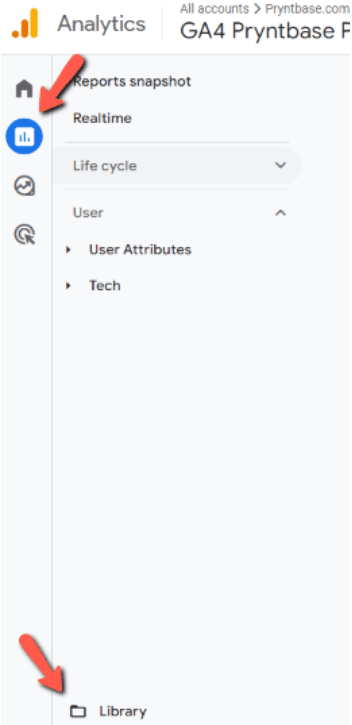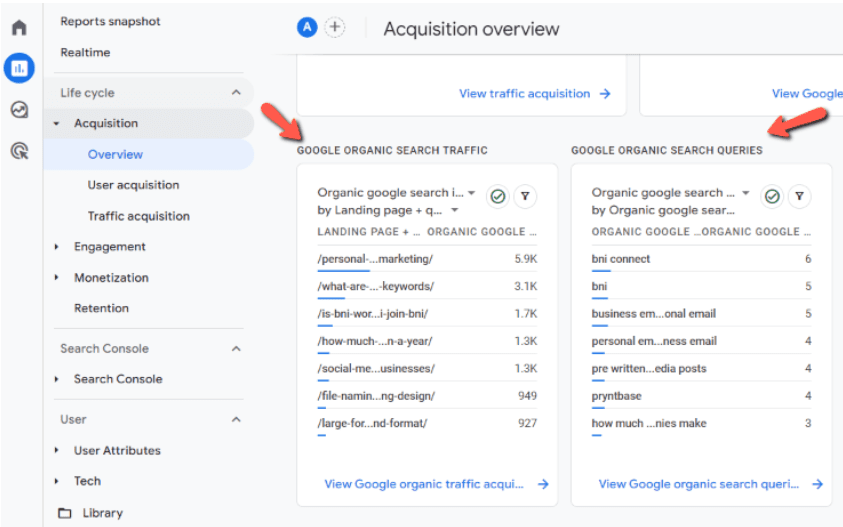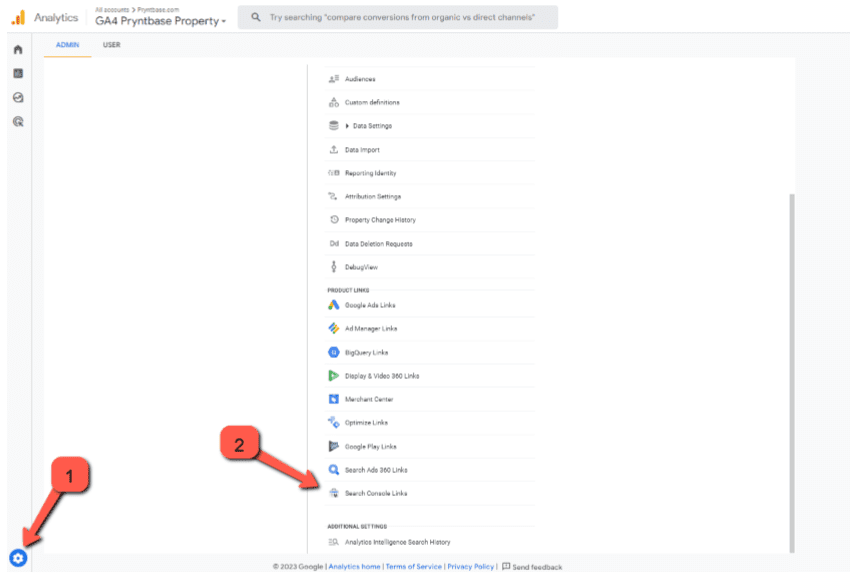 In the top right corner, click Link.

Then under Choose Search Console Property, click
Choose Accounts.
A list of Search Console properties will appear. Select the one you want to connect to GA4 and click confirm. 
Click Next. Then select the Web Data Stream you want to link to the Search Console account by clicking Select then select your data stream. 
From there, click Next. Then review all of your selections before clicking Submit. 
You should then see a Link Created message which means you successfully connected the two accounts. 
Note: It can take up to 24 hours to start seeing Search Console data populated inside of your GA4 property. 
How to View Search Console Data in GA4
Once you've connected GA4 and Search Console, you'll be able to view the imported data under 
Reports -> Acquisition -> Acquisition Overview
You should see two additional "tiles" appear in the report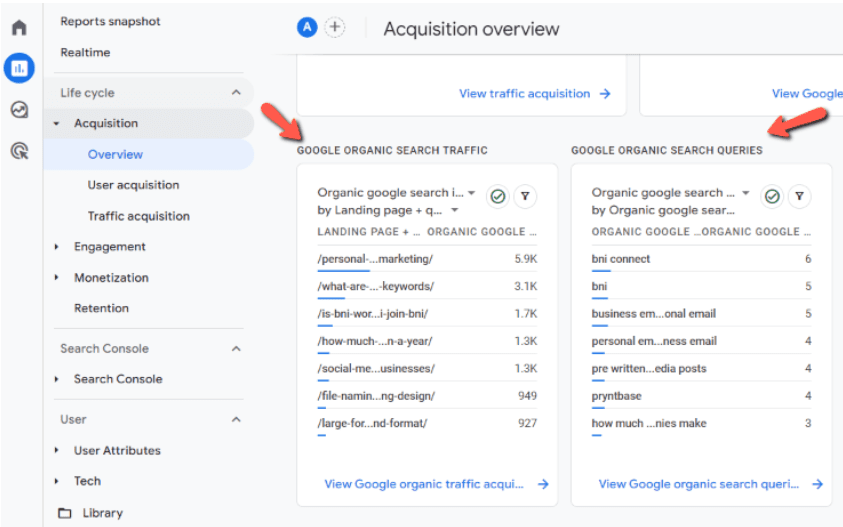 Additionally, you can add Search Console to the sidebar of your GA4 property to make it easier to access. 
To do this, go to Reports then Library.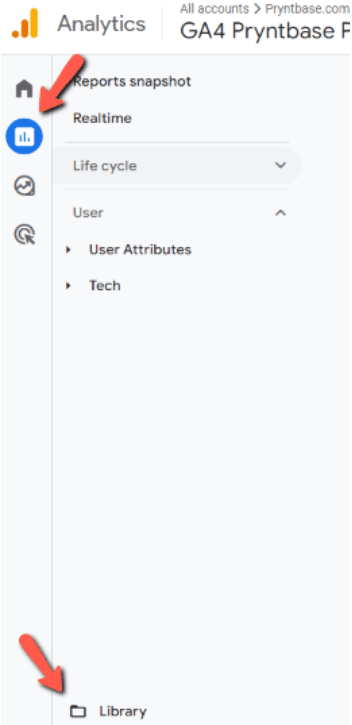 From there, you should see a 'widget' titled Search Console and it's marked as unpublished. To publish, click on the three dots, then select Publish. 

You should then see a new report on the sidebar titled Search Console
Connecting GA4 and Search Console is pretty straightforward so hopefully you don't run into any issues but if you do, we're here to help!
Are You Ready to get more Print Leads and Sales?