How Print Companies Can Write Blogs That Rank High and Get Sales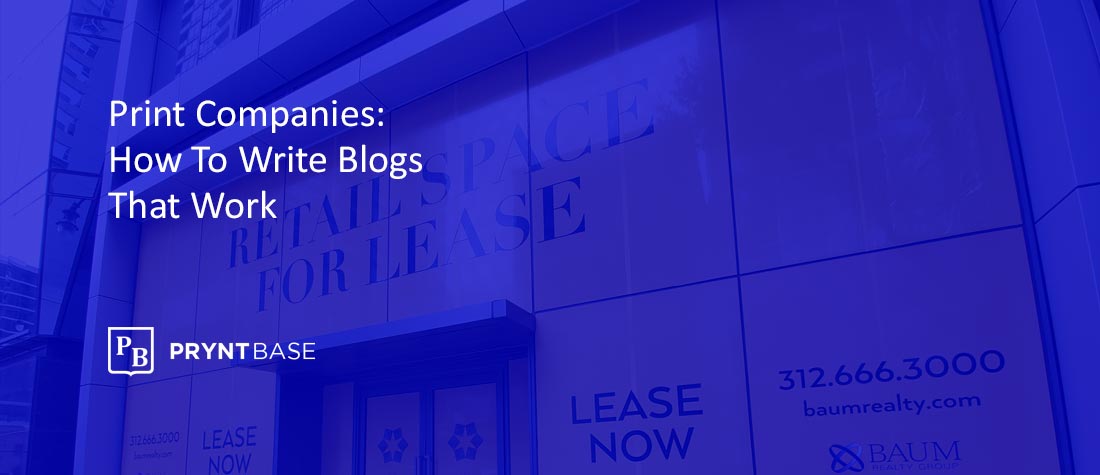 One of the most common problems we hear from printers is that they don't know "What blogs should they be writing" or more specifically which blog post topics will get them found online and convert readers to buyers.
With this coming up so often we wanted to put together a quick guide on how your print company can write blog posts that rank high, get you found online and turn visitors to your website into sales.
Why Strategic Blog Posts Work for Print Companies
The basic model is that if you write blog posts on topics that marketers, designers and print buyers are searching for online then you can show up as a resource for those prospects and if what you share is useful, informative or engaging in some way then they are likely to talk with you about their current needs.
For example:
Let's say a buyer is searching for pricing on brochures and they want to know the difference in cost if they go with a single color print vs a 2 color or 4 color.
Of course there are many factors that go into estimating / quoting those costs.
Is it digitally printed or is it offset, what is the volume, what finishing do they need, etc.
But that is the point of the blog post.
If you write an article that shares those variables and how they affect pricing that will educate your reader and give them the information needed to follow up with you and get a quote.
Optimizing Print Focused Blog Posts
To ensure that your blog post has a good chance of being found online you'll need to make sure there are a number of inclusions that you build into the post.
Title Tag
This is used by the search engines to rank content and is the bold headline that shows up in Google search results. So you'll want to include your keyword in the title.
Keep this to under 60 characters.
Meta Description
This is what shows up in the search engine results under the title tag.
It does not directly influence rankings but contributes to a prospect clicking through to the page. The click is a direct ranking factor so having a compelling meta description is important.
Keep this to under 160 characters.
H1 Heading Tag
The H1 tag is a piece of code that is used by the search engine to determine the main topic or theme of a page. It's typically the Big Bold Headline at the top of your website page. This should include the keyword you want to rank for.
H2 Heading Tag
Similar to the H1 tag the H2 tag serves the same purpose but is less important than the H1, but still important enough that you want to have terms inside this tag that support the main keyword. We call these supporting keywords.
Problem, Solution Post Format
This refers to a writing format. By including the problem and a solution to that problem you are directly addressing searches that customers are performing. They want answers and you give them those answers.
The search engines love this format, people love this format, it gets you better rankings and it gets you more sales.
If you employ these tips into writing blog posts for your print company then you are guaranteed to get more visibility, traffic, leads and sales.
Are You Ready to Write More Effective Blogs?