How Much Revenue Does A Print Company Make in A Year?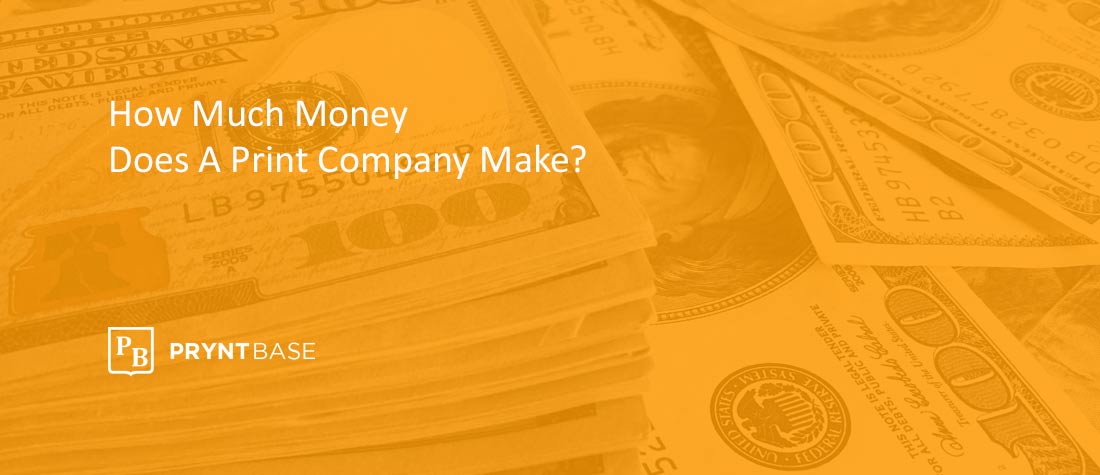 This is the big question, "How Much Sales Should A Print Company Make in a Year?". And of course it's different for everyone. Whatever your print company does in revenue per year technically is the answer, right? Yes and No.
Here's the deal, if you work at or own a print company and you're searching to find How Much a Print Company Makes Per Year, then you're likely looking to compare your revenue to an average or an industry standard. And that is cool, but again, can you really apply an average to your business when there are so many variables and nuances within the print industry that make it difficult to compare one company's revenue to another. The answer is Yes, that is very difficult. You're going to be better off looking at the entire industry, segments of the industry, your own numbers and setting targets from there that will give you what you're looking for when it comes to annual print shop revenue and sales.
In this article we'll talk through those numbers and give you a clear picture so you can benchmark your print company's revenue properly.
What Are The Stats on Revenue in the Print Industry?
Overall print in general has declined year over year by 2.9%, but that doesn't mean there isn't big money to be made still. The print market as we speak is around $80 Billion in revenue. But this is why the question of how much revenue or sales should a print company be making is so relevant. That's a lot of money and the more you share in that the better. So let's look at the breakdown.
The Largest Print Companies By Revenue are Companies Like…
R.R. Donnelley at $5.5 Billion
Quad at $3.92 Billion
LSC at $2.84 Billion
And just a few others that hit $1 Billion in revenue.
But that's it, about 6 print companies at the $1 Billion mark in the industry.
You obviously cannot compare yourself to these companies.
So let's look at the average revenue of a print company by size
The Top 1% of Print Companies are generating over $11 Million in Annual Revenue
The Top 10% of Print Service Providers are bringing in more than $5 Million in Sales
The Top 25% of Printers are doing over $3.5 Million in Revenue
The Top 50% of Print Shops are making over $1.75 Million per Year
The Top 75% of Print Businesses are making over $500,000 a Year
And the bottom 25% are making between $75,000 to $499,000 per Year in Revenue
In the bottom 25% is where you'll find a lot of single owner / operator print shops or 2 to 3 person operations. Some are startups while others just aren't trying to grow or haven't grown.
As a company you may choose to use a common method making a certain amount of money per head at the company. For example if you say that you want to make $110,000 per employee hired then if you have a 4 person print shop you'll want to shoot for $440,000 per year, but if you have a 10 person shop you'll want to be around $1,100,000 or higher.
How Much Profit Should A Print Company Generate?
Luckily there are some stats out there on this as it relates to print company profitability. The truth is though that the majority of businesses are not profitable on paper. It's more tax efficient to claim a loss or to break even so you'll find that many smaller print businesses actually show that they make no money.
But the numbers that are available say that only the top 1% of print companies are generating around 50% + profit while the top 25% to 29% generate 25% profit a good chunk of about 40% of print companies are making about 7% to 10% profit and the rest are doing 1% to 3% or 0% in their business.
It comes down to how efficient your operation is, how much you charge for services and what your capital expenditures + cost of goods sold (COGS) looks like each year.
So while there is no definitive answer to "How Much A Print Company Should Make" you should find this article helpful in providing you with a baseline of data so you can accurately compare yourself to the market and set goals against that for your company.
Are You Ready to get more Print Leads and Sales?