How Do I Connect Google Ads to GA4 / Google Analytics 4?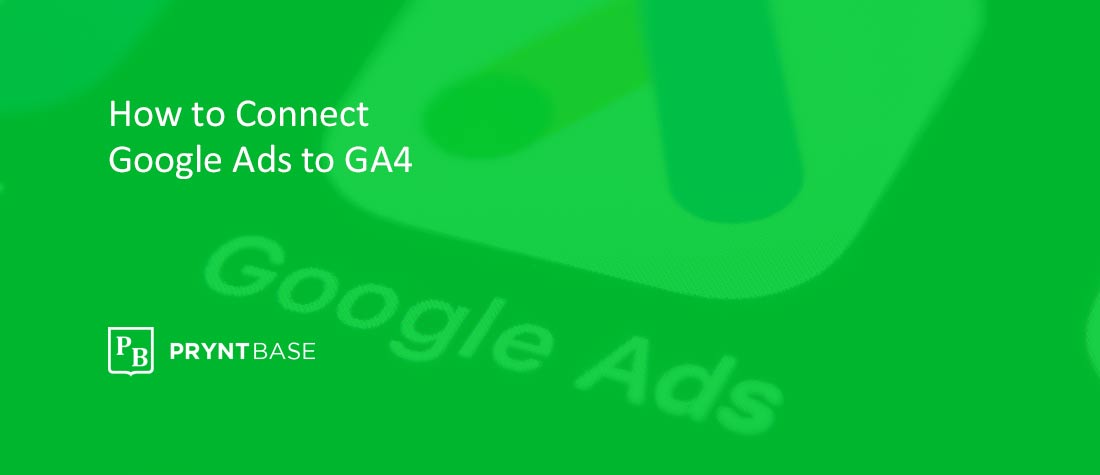 Great question, because with the full rollout of GA4 or Google Analytics 4 being out and the official word on not using UA as of next summer you'll need to start hooking everything up to a new GA4 property.  So you need to know how to connect Google Ads to GA4 as one of those integrations. And the reality is you need to know both how to connect Google Ads to GA4 AND you need to know how to connect GA4 to Google Ads because technically you have to do both.
We'll go through how to connect Google Ads and GA4 in this article and show how to connect GA4 to Google Ads in a separate article.
We've also created this video showing you step by step how to connect Google Ads to GA4
Connect Google Ads to GA4
Let's jump right into it!
First navigate to your GA4 and click on the gear icon at the bottom left of your screen where it says Admin.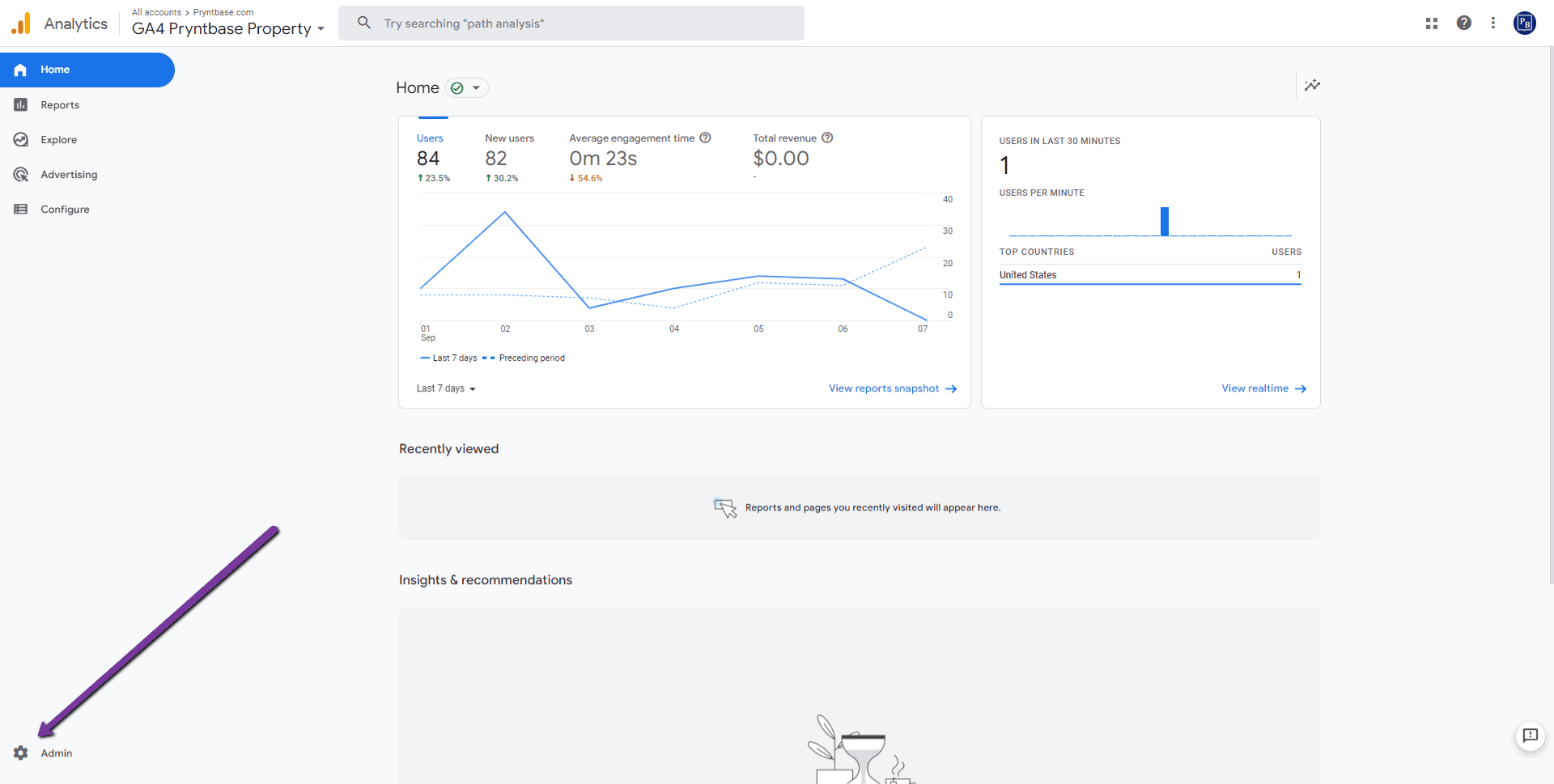 On the next window under the Property Column you will see an item labeled Google Ads Links under the Product Links section. Click the Google Ads Links Label.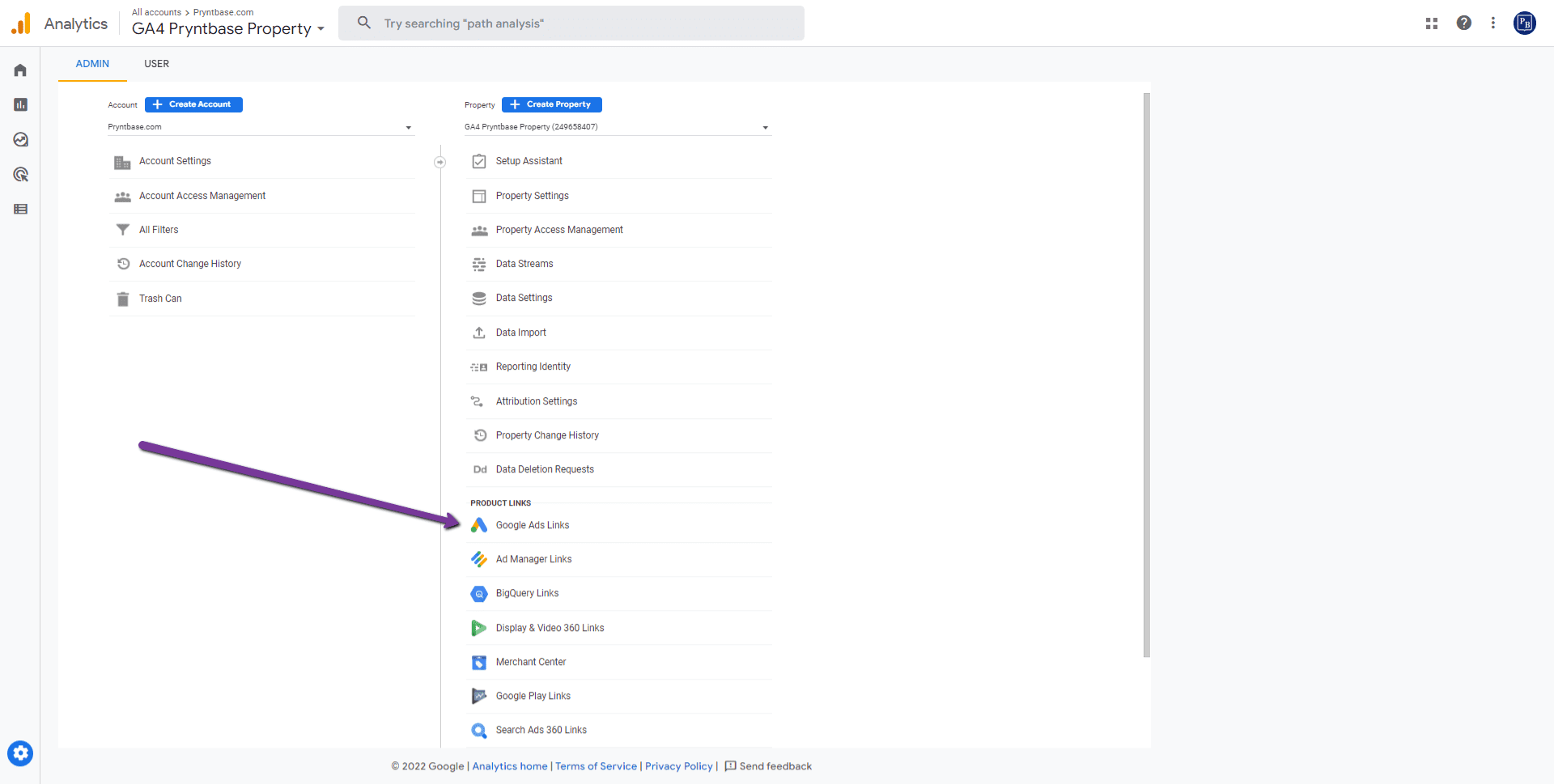 The next step is to click the blue Link button on the section that pops up.
By clicking the Link button it will open a new window overlay that walks you through choosing the Google Ads Account you want to link to.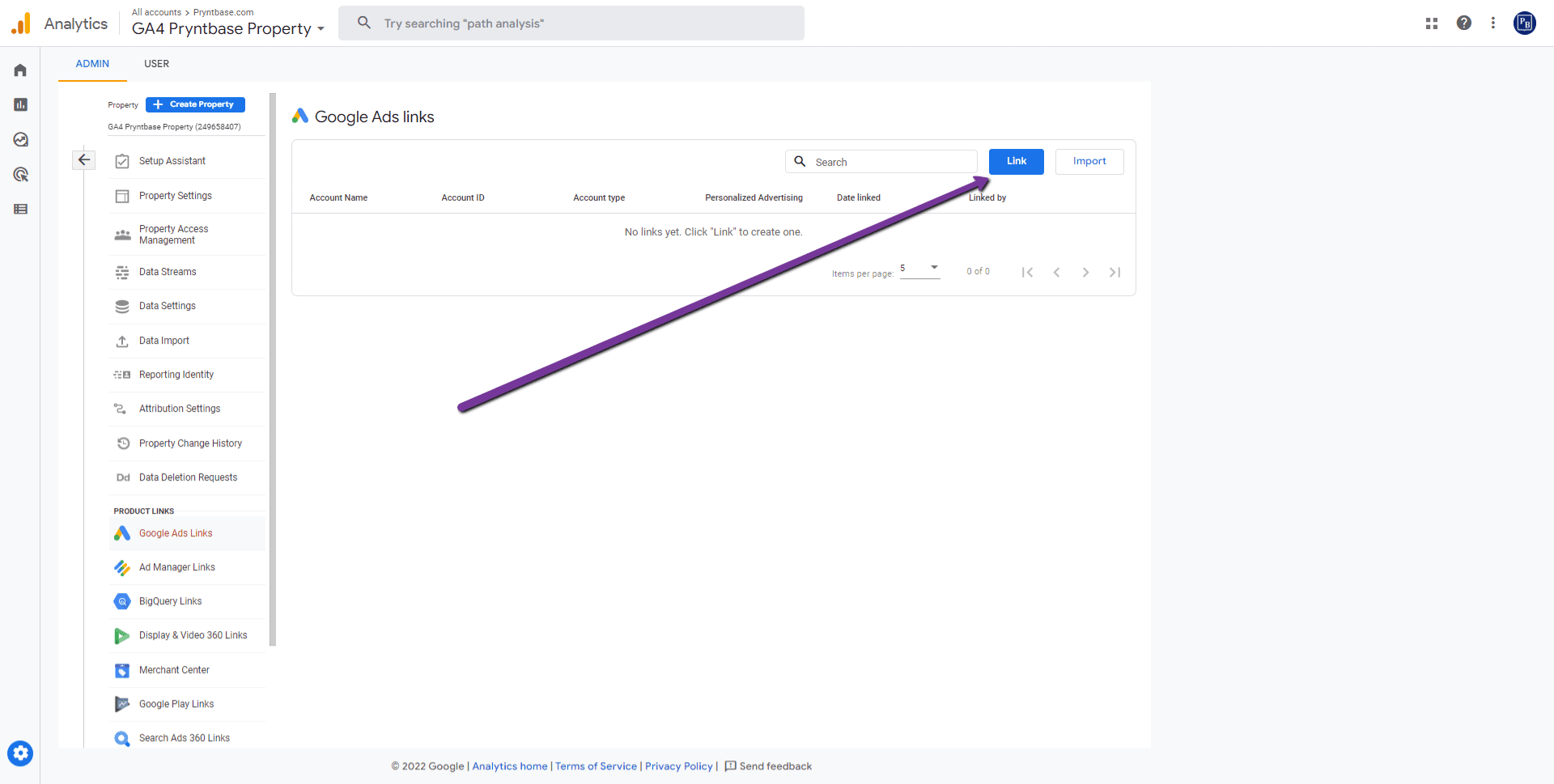 On the window that slides over you'll need to click on the text that reads "Choose Google Ads Accounts". This will bring up another slide over window that shows the accounts you manage, which you'll then need to choose from that list. *note: you may only have 1 account to choose from if you are a marketer at a single company
Click on the checkbox next to the Google Ads account you want to link to GA4 and then click the confirm button.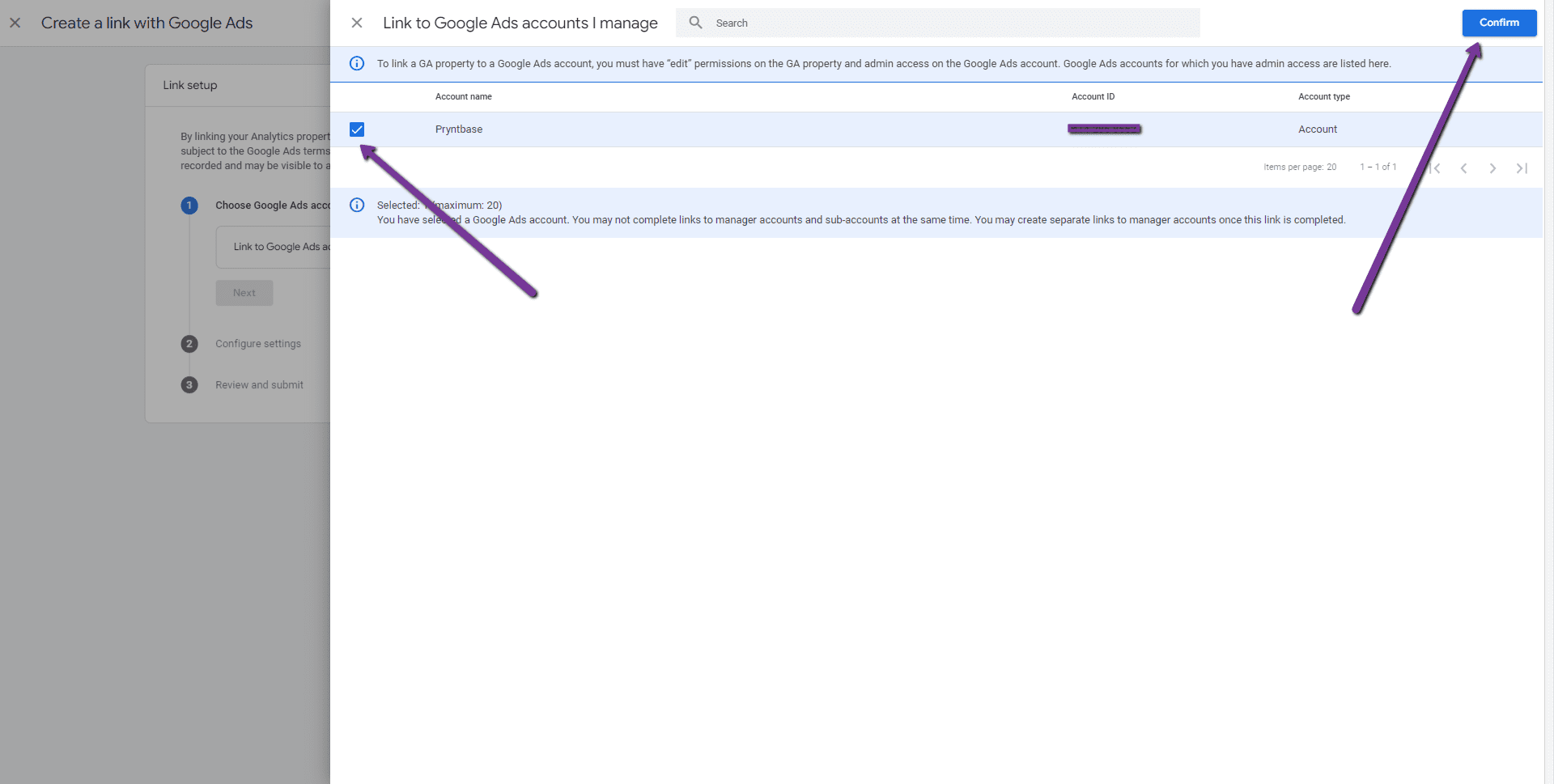 After clicking the confirm button the window will slide back and the blue Next button will be active so you can click on that. When clicking on the Next button it will collapse the Choose Google Ads Accounts section and open up the Configure Settings section.
We recommend leaving Personalized Advertising enabled and leaving Enable Auto-Tagging alone.  So all you'll need to do here is click next.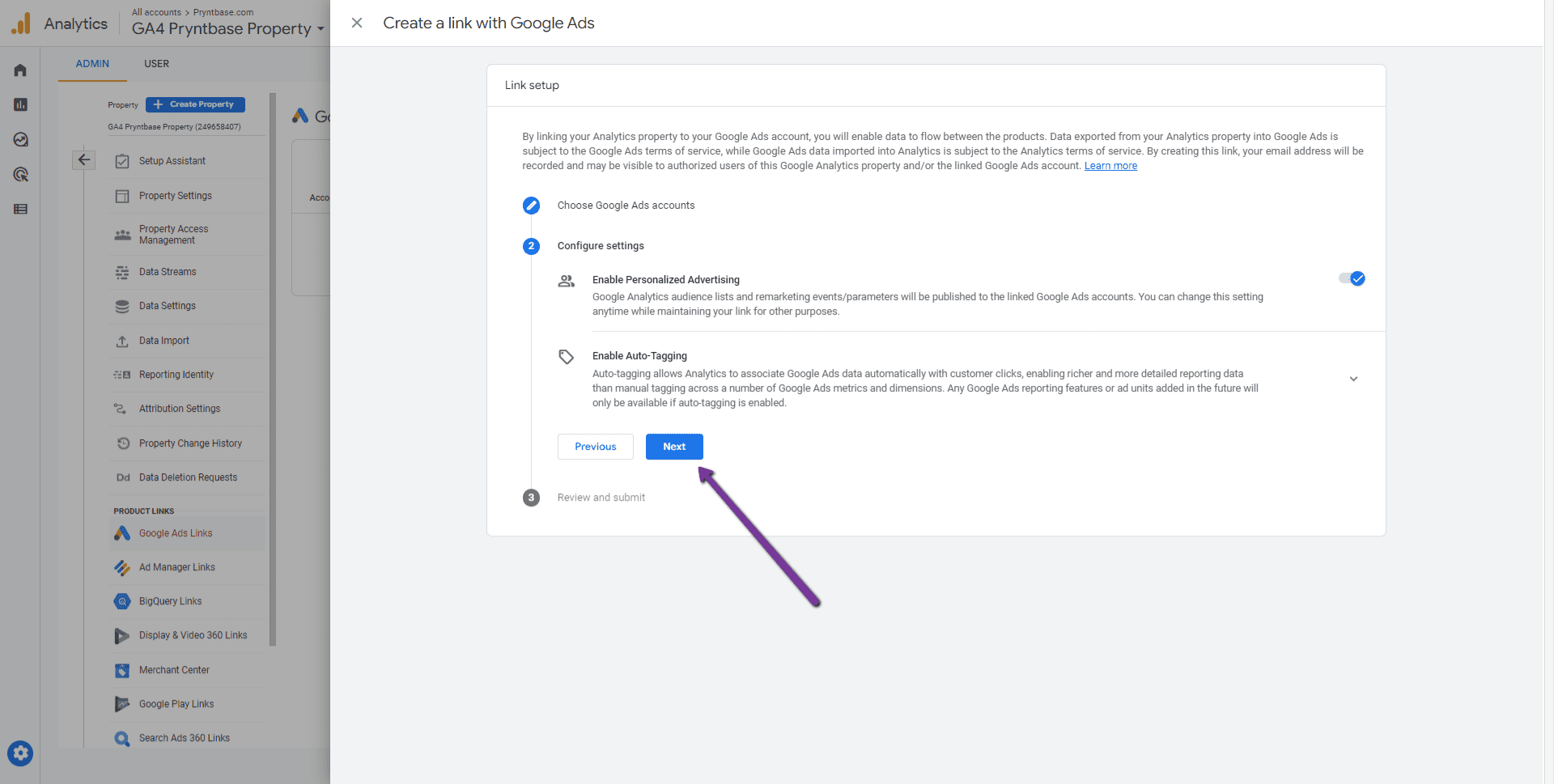 Clicking the next button will collapse the Configure Settings section and open up the Review and Submit section. The information that shows up here is simply an overview of the last two sections so you can see it all in summary form and confirm that the data is correct.
As long as everything looks good here the last step is to click on the Submit button.
And you're done!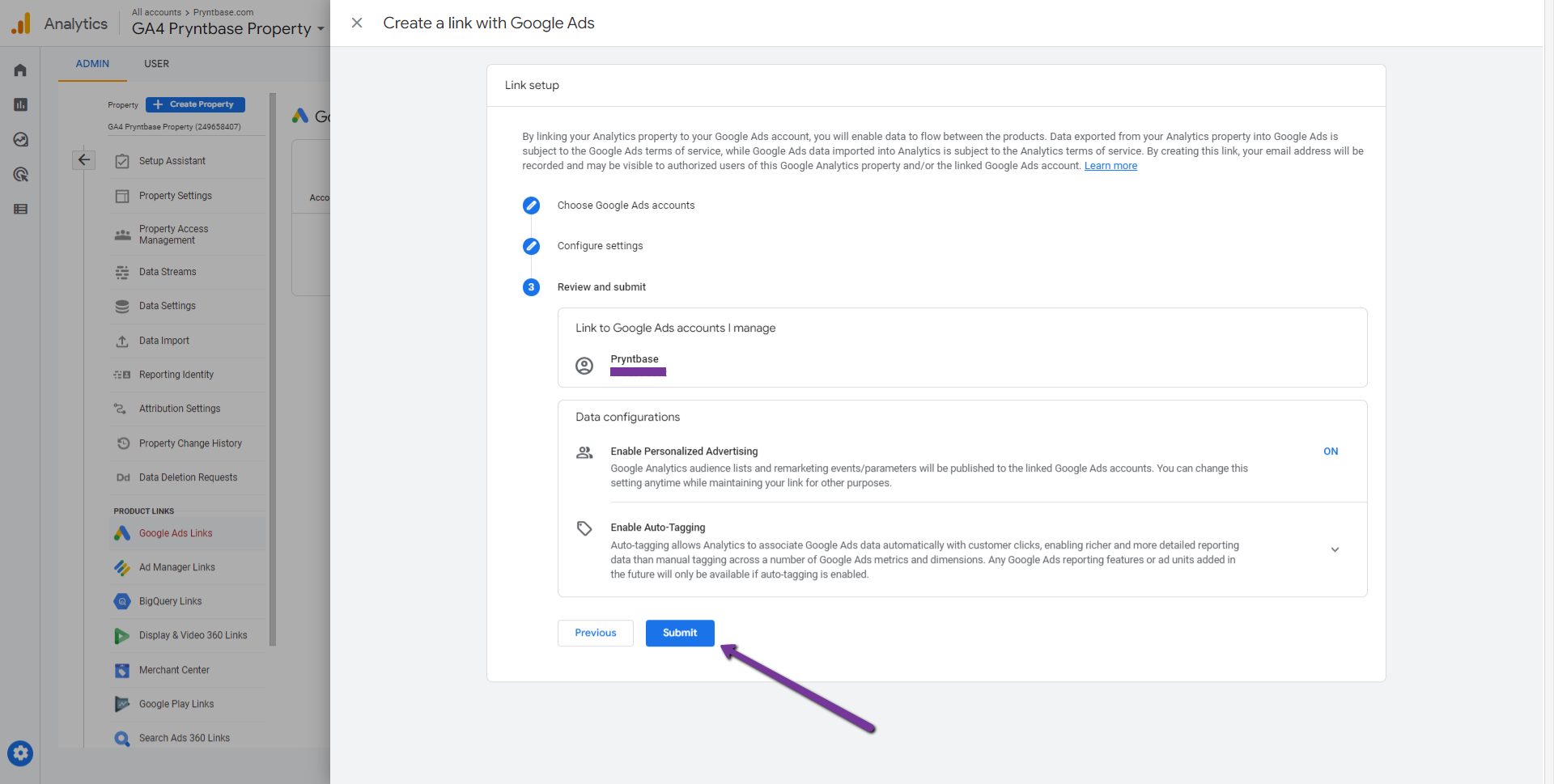 Luckily Google made it pretty easy to connect Google Ads and GA4 so we are pretty excited about that. If you do have any issues with this we would love to help. Reach out if you need to!
Are You Ready to get more Print Leads and Sales?