3 Email Types Printers Should be Sending Out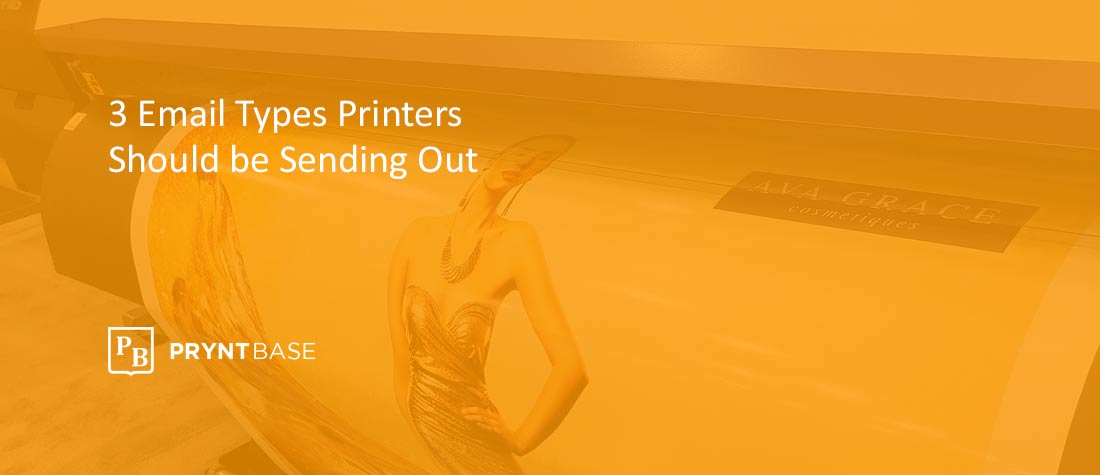 If you're reading this, it's likely because you know the importance of email marketing for your print company. Over 95% of people check their email daily which is why email marketing is the most common way businesses reach their customers. The first step is building your contact list. The next step is actually sending emails to your prospects and customers. We know it's overwhelming deciding what to send to your contact list and we also have worked in the print industry long enough to know what types of emails you should send out. 
Here are the 3 email types we recommend you send out to your print customers starting out. 
Product or Service Feature Email
The purpose of a product feature email is to do just that, feature a specific product you offer to your customers with the hope that highlighting a product will encourage them to purchase. You can start by choosing your most commonly printed product and creating an email around that. 
An example of a product/service feature email could be promoting your direct mail printing. In the email, talk about the different types of direct mail pieces you typically print, what color, paper and finishing options are available and even include a success story of a business you worked with that worked with your team on their direct mail campaigns and the results they saw from it. 
Tips for Product Feature Emails:
Pick a single product or service to feature. It's easy to want to promote all of your capabilities, but it's important to keep the email focused on a single offering to keep the message clear. 

Include quality images of the product you're promoting. Customers want to see work you've done so it's critical to have at least one good photo of the product you're featuring.
Promotional Email
Promotional emails are perfect when you want to offer a sale or promotion on your products or services. The promotion needs to be enticing enough to get your customers to not only open your email, but to actual purchase. You can be creative with these emails especially with the subject line to increase the number of email opens. 
An example of an effective promotional email could be a holiday sale where you're offering 100 free business cards with an order of any small format print project. Or a simpler option could be a $75 off a $150 order coupon. 
Tips for Promotional Emails:
Create a sense of urgency with your email copy. Most promotions only last a limited time so you'll want to share how long the offer is good until to encourage customers to get their order in while they can

Make the offer you're promoting clear. You'll want to make it as easy and possible for your customers to see the offer. Consider adding it to the Subject Line as well as the headline of the email. 

Keep your email short and sweet. You don't want your offer to get lost in the mix of heavy copy. Simply share the promotion and how to redeem or take advantage of the offer.
Product Launch Email
It makes sense to let your customers and prospects know when you have new products, or services to offer them. The goal is to update those on your email list about your new offering and to hopefully bring in new business. 
Some examples of product launch emails include promoting a new printer and its capabilities (shorter runs, lower production costs, etc) or you are now offering custom envelopes as a product available to customers. 
Tips for Product Launch Emails: 
Provide enough information on the new product so customers can make the decision to reach out with more questions or to even order right away.

Be sure to have an image of the new product to give customers a clear vision of what is possible
Of course there are a number of other types of emails you can send out such as transactional emails or newsletter emails, but we know that if you start by sending out at least one of these types of emails, you'll start seeing a return.
Are You Ready to get more Print Leads and Sales?